Social Ministry
                  
St. Paul's is actively engaged in reaching out to its surrounding neighborhood, the city of Washington, DC, the country and the world through its social ministry efforts. We have numerous service opportunities available throughout the year and are always seeking volunteers to help us do God's work with our hands. One example, last Lent we joined Lutheran World Relief's Baskets of Promise Campaign. We collected Personal Care items and then assembled over 100 kits to be distributed around the world to those in need. 
If you are interested in joining the social ministry planning team, volunteering for an activity, or learning more about this ministry, please contact Emily Foley, Social Ministry Chair.
_______________________________________________________________________________________
Help Support Friendship Place's "Adopt-A-Family" This Season!
Once again, St. Paul's is volunteering to provide support for Friendship Place's "Adopt-A-Family" program this Christmas. The families in the Neighbors First Program are low-income (an average of $720 monthly) so your support is greatly appreciated.
Look for Social Ministry's display in the Portico this Sunday, and consider taking one (or more) names of children who are counting on you to make their Christmas merry!
Please note:
Please mark the child's name and number on the gift in a way that can be later removed (i.e., tape, or post-it note). This is critical as Friendship Place will be transporting and delivering over 250 gifts this season.
You make select one child or multiple children
In some cases, multiple wishes are included on the list to offer you ideas, but sponsors are not required to provide every item on the list-you may choose 1 or 2
Gifts can be brought to the church wrapped (preferred) or unwrapped (either way, make sure that you have the child's name and number on the package!)
Gifts need to be at the church by Wednesday, December 12th.  Lisa will deliver them to the Neighbors First program offices on Thursday or Friday of that week.
If you have any questions, please contact Lisa Wackler at (202) 966-5489, ext 125.
________________________________________________________________________________________
Gifts of Hope 2018 
Gifts of Hope is our Synod's alternative gift giving program which enables people to give gifts that reflect the gift God gave us, God's Son Jesus Christ. Please consider substituting a Gift of Hope for a more traditional gift on your list for friends and family, or supplementing those other gifts with a donation that will lighten the lives of others this Christmas season.
This program gives anyone the opportunity to purchase a practical gift to help our brothers and sisters in the DC area and around the world. Real challenges of homelessness and poverty continue to grow in our community, and there are needs across the globe that call for our attention. With Gifts of Hope, you will have the opportunity to choose from a group of Lutheran social ministry organizations, camps, and our synod's companion synods abroad to directly support their mission and programs.  Many children in the Washington area and throughout the world have benefited from Gifts of Hope by receiving books, camp scholarships, free lunches, and educational trips. Social ministry organizations, Lutheran camps, and Lutheran Churches in El Salvador, Namibia and Slovakia have also benefited from Gifts of Hope.
Beginning on Sunday, December 2, you can make a monetary contribution in honor of those on your gift list. Your contribution goes to the beneficiary organization to purchase the gifts you have selected.  View all the participating organizations on the back of the catalog or on the web at https://www.giftsofhopedc.org/beneficiary-organizations/
Gifts of Hope catalogs will be available in our congregation on Sunday, November 25. Watch for the display after each service beginning December 2 and ending December 23 in St. Paul's narthex. You can review the gifts, fill out an order form, and purchase your gifts. You will receive a beautiful card and insert to use as the gift. For more information about Gifts of Hope see the web site, https://www.giftsofhopedc.org  or contact Rebecca Highsmith at 202.309.2812.
________________________________________________________________________________________
News from Lutheran World Relief
The mission quilts made by Carol Wake and blessed last year at Christ the King Sunday went to Armenia! LWR's partner there is International Orthodox Christian Charities and they distributed the blankets to Syrian refugees as well as vulnerable Armenians struggling in the grip of chronic poverty. Thanks to everyone for your generous donations of fabric and thread for the project. Please know that Carol is still quilting and welcomes any extra fabric and thread for her next batch of quilts. 
________________________________________________________________________________________
Homeless Shelter Volunteers Needed
We are looking to the future with excitement for continuing our ministry caring for the homeless in D.C.  We hope to work with our partners from Friendship Place, a leading provider of housing services for the homeless, to implement a new peer model for St. Paul's Shelter.  The peer model focuses on personal empowerment to facilitate connecting people to permanent housing effectively and efficiently, and is a best practice model in transitional housing.  We are looking for members of the congregation to serve on an advisory board to help lead this important ministry.  No experience is needed, just a strong desire to ensure our shelter is a welcoming and supportive transitional space for our residents.  If you are interested, please contact Beth Van Hanswyk or Kate Belinski .   
Thank you from the Social Ministry Committee
THANK YOU ST. PAUL'S! The Social Ministry Committee would like to thank you for your support during the Six Summer Sundays of Service! About 30 St. Paul's volunteers supported a number of organizations around the themes of caring for the elderly, thanking veterans, welcoming refugees, supporting people experiencing homeless, and promoting early childhood education. In the process we made 30 bouquets of flowers; designed 40 cards for veterans, new citizens, refugees, and incarcerated populations; made 30 toiletry bags for people experiencing homelessness; wrote 20 letters to Lutheran Members of Congress; cleaned the church kitchen to support food pantry efforts; and packed 24 backpacks with school supplies! The organizations we supported include Forest Hills Inclusive Senior Living, Prime Time, A Million Thanks, Lutheran Immigration and Refugee Services, Lutheran Social Service, the SPLC food pantry, and Friendship Place. If you're interested in joining the Social Ministry Committee to continue work like this, contact Emily Foley.
FOOD PANTRY DRIVERS REQUESTED
St. Paul's Food Pantry continues to be a success, and we are hoping to add a few more  volunteer drivers to our team to keep it running smoothly! We are looking to supplement our existing driver team with new volunteers, who would be able to pick up food at the Capital Area Food Bank once a month or so. The pickup is on Friday mornings, so anyone with a flexible schedule would be ideal!
Please email Pete Schroeder if you are interested in helping out, and keeping members of our community fed!
________________________________________________________________________________________
Thank you from St. Paul's Social Ministries!!
Thank you for supporting refugee families through this year's Lenten Service Project! Tables, towels, and toiletries, oh my! St. Paul's collected these items and more (dressers, cookware, kitchen utensils, baby supplies, etc.) which will be donated to Lutheran Social Services of the National Capital Area and distributed to refugee families resettling in the area. From the social ministry committee, thanks for making this project a success!
Emily Foley, Chair 
_______________________________________________________________________________________
Mission Trip to Texas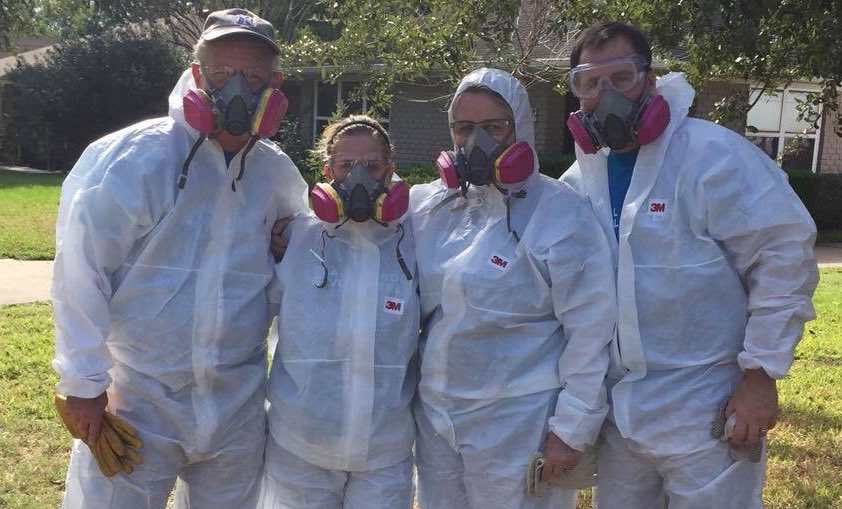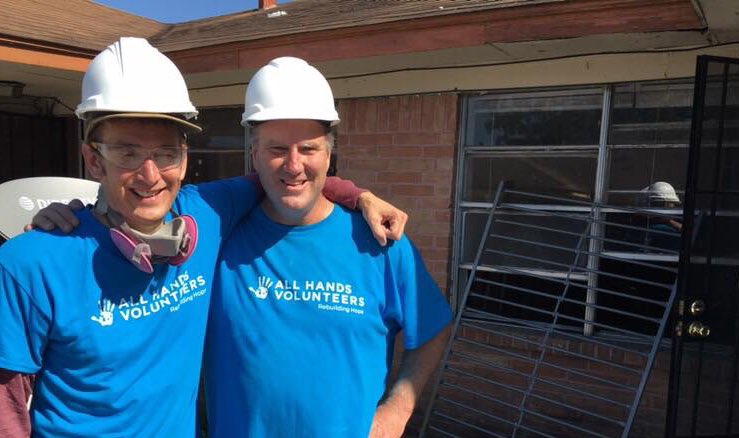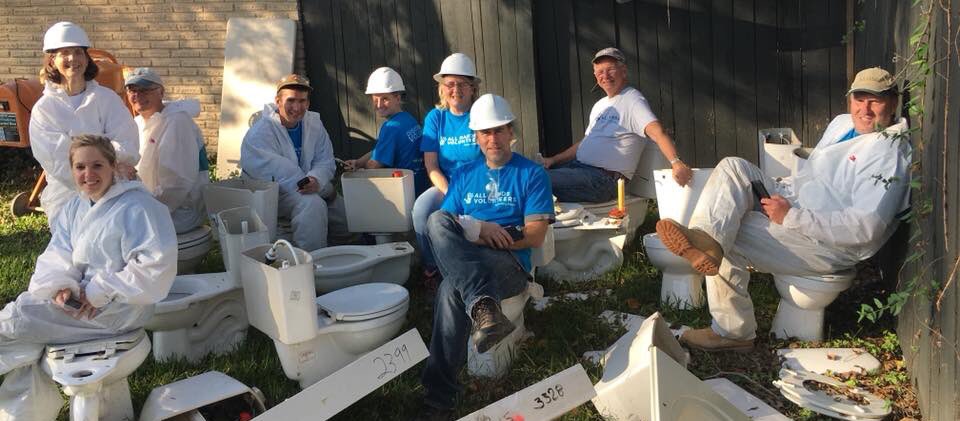 __________________________________________
Pocket Prayer Squares
The Prayer Shawl Ministry has placed baskets of Pocket Prayer Squares in the narthex and portico.  These prayer squares have been knitted with love and prayers to provide encouragement, healing, joy and peace to those in need.  If you look closely at the square you will see a cross located in the center. A Scripture card of various verses is attached to each; pick your favorite verse.  You may carry the prayer square in your pocket, purse or keep it at home as a reminder of God's love and the prayers of St. Paul's. 
Prayer Shawl Request Forms
If you are in need of prayer shawl gifts and are having difficulty making the request a basket of request forms have been placed in the narthex and portico.  Just fill out any critical portions and drop it by Cassie's office or mailbox (outside main office).  You may call the office or send a request via e-mail.  Contact Deaconess Cassie with questions.
__________________________________________________________________________________________
MEN'S SHELTER
St. Paul's has a five bed men's shelter right in the church building. It is a transitional shelter for homeless men who are moving off of the street or out of a large shelter and are in the process of rebuilding their lives in order to move into permanent housing. We provide a bed, a safe place to store belongings, shower and laundry facilities. The residents receive case management services from our ministry partners, Community Council for the Homeless at Friendship Place and Miriam's Kitchen. Every night, the men receive a home cooked meal courtesy of our shelter meal volunteers. If you are interested in providing meals to the residents, please contact Debra Fried Levin. If you are interested in mentoring a shelter resident, please contact Kate Belinski.
   ~~~~~~~~~~~~~~~~~~~~~~~~~~~~~~~~~~~~~~~~~~~~~~~~~~~~~~~~~~~~~~~~~~~~~~~~~~~~
FOOD PANTRY       
St. Paul's hosts a food pantry on the first and third Saturday of every month from 10am to noon. The pantry is fully operated by volunteers on a rotating basis. Over the course of a year, the food pantry provides over 13,000 pounds of food to more than 2,500 individuals. We partner with the DC Capital Area Food Bank to supplement the traditional pantry items with fresh produce, dairy and meats. Our dedicated volunteers stock shelves, hand out food, give recipe advice, and interact with the clients on a personal level. If you are interested in volunteering at the food pantry, please contact Megan Schroeder.
 ~~~~~~~~~~~~~~~~~~~~~~~~~~~~~~~~~~~~~~~~~~~~~~~~~~~~~~~~~~~~~~~~~~~~~~~~~~~~
Prime Time Senior Ministry
Join us every Wednesday for Food and Fun with Prime Time Senior Ministry!   
Every week Prime Time gathers to watch an interesting program or lecture, follwed by lunch and exercise class.  There are always new friends to meet and new things to learn, so we hope you'll join us!  Transportation is available if needed,  Please contact Deaconess Cassie Brown for more information.
~~~~~~~~~~~~~~~~~~~~~~~~~~~~~~~~~~~~~~~~~~~~~~~~~~~~~~~~~~~~~~~~~~~~~~~~~~~~~~~~~~
GIFTS OF HOPE
Gifts of Hope is an alternative gift-program of the DC Metropolitan Synod that runs during the Advent season. Instead of buying someone a boring old sweater for Christmas, Gifts of Hope offers the opportunity to buy a meaningful gift for someone else in their honor, such as: medical services for indigent DC residents, books for schools in Tanzania, or treats for a summer camp for children affected by HIV-AIDS. If you are interested in volunteering to staff the Gifts of Hope table during Advent, or would like to purchase an item, please contact Rebecca Highsmith.
--------------------------------------------------------------------------------------------------------------------------------------------------------------
MISSION AND DISASTER RELIEF TRIPS
St. Paul's mission trips and disaster relief trips provide a wonderful opportunity for church members and friends to spend time in daily service to improve the lives of others. Whether rebuilding houses along the Mississippi Gulf or volunteering at an orphanage in Zambia, these trips are truly life changing.
For more information about St. Paul's Mission Trips, please contact the church office at 202.966.5489.
Mission Trip to Lumberton, North Carolina: December 2 - December 5
Members of St. Paul's Disaster Relief mission trip went to Lumberton, NC, an area particularly hard hit by flooding this past fall. 
 Mission Trip to Namibia: July 19th - August 2nd
In coordination with our sister synod, the Evangelical Lutheran Church in the Republic of Namibia (ELCRN), St. Paul's sent a team to Namibia this summer from July 19th - August 2nd to help at some of the 19 orphanages that the ELCRN operates. 
~~~~~~~~~~~~~~~~~~~~~~~~~~~~~~~~~~~~~~~~~~~~~~~~~~~~~~~~~~~~~~~~~~~~~~~~~~~~~~~
Mission trip to Missouri: February 2016. In February of 2016, Pastor Tom Omholt and others from  worked with All Hands, a disaster response organization, to assist Missouri residents who were affected by severe flooding. Check out the photographs of their adventure and service. 
~~~~~~~~~~~~~~~~~~~~~~~~~~~~~~~~~~~~~~~~~~~~~~~~~~~~~~~~~~~~~~~~~~~~~~~~~~~~~~~~