8:30 am--Worship Service
9:45 am--10:45 am--Sunday School
11:00 am--Worship Service
This Sunday (November 18th) we continue with 2 worship services (8:30 am and 11 am) and Pastor Rebecca Stelle will be our guest preacher. 
Schedule for Visiting Pastors:
November 21st (Thanksgiving Eve - 7 pm service) Pastor Katherine Cartwright Knodell 
November 25th Pastor Elijah Mwitanti 
  __________________________________________________________________________________
Ordination Service for Chris Schaefer to be held on November 17th! 
All are invited to the Service of Ordination of Chris Schaefer! He will be ordained to the ministry of Word and Sacrament in the Evangelical Lutheran Church in America on Saturday, November 17 at 3:30 pm at St. Paul's.
Chris has been called to be Pastor of Divinity Lutheran Church in Towson, MD, and served his internship year at St. Paul's during 2016-2017.
A reception to follow the service in celebration of the beginning of Chris's ministry.
___________________________________________________________________________________
And don't forget!  The church nursery is available every Sunday 10:30 am--12:30 pm (or until the last child gets picked up).  Let us give you a break when you need it!
__________________________________________________________________________________
Thanksgiving Dinner for AU Students 
          Sunday, November 18th - Please Help!
For the past several years, St. Paul's has been providing a Thanksgiving dinner for approximately 30 students at American University on the Sunday prior to Thanksgiving. We still need gravy, stuffing, mashed potatoes, vegetables, rolls and pies. Monetary gifts towards the purchase of food can be accepted as well. 
Click HERE for a link to SignUp Genius to volunteer to bring food items.
The dinner is at 8 pm at the Kay Spiritual Life Center on AU's campus. Kay is the round building with the flame on top directly off of the Mass. Avenue entrance to the campus.Food can be dropped off anytime between 6:30 pm and 8 pm.  
If you would like to assist or if you have any questions please don't hesitate to contact Joy Belew in the church office (202-966-5489). 
_______________________________________________________________________
Annual Thanksgiving Eve Service--Wednesday, November 21st at 7 pm
On Thanksgiving Eve, Wednesday, November 21st at 7 pm, members and friends will gather in the chancel of St. Paul's to give thanks to God for all His many blessings. Pastor Katherine Cartwright Knodel will lead the service. Please join us!
___________________________________________________________________________________
Hanging of the Greens--Saturday, Dec. 1st at 10 am
Please join us in the Sanctuary on Saturday, December 1st at 10 am for fun, fellowship and refreshments! We will deck St. Paul's in all its Christmas Trimmings, tree and wreaths, garlands and bows, pine cones and holly berries. Light refreshments will be available. All are welcome! 
___________________________________________________________________________________
Advent Begins December 2nd!
Christmas will be here soon, so don't forget to take time to enjoy the special season of anticipation that is Advent. Advent is the special time leading up to Christmas as we ponder what God promised to us: That we would be sent Jesus, to live among us and be our Savior.
The Advent Workshop will be at the church on Sunday, November 18th, during the Sunday School hour. Please join us as we make a kid-friendly Advent craft, make cards for our college students, and have the opportunity to pick up the supplies to make our "Countdown to Christmas Chains." There will also be a chance for families to make an Advent wreath for their home! (No need to RSVP, but if you'd like to make a wreath, please let Lisa Wackler know, so we have enough supplies on hand.)
Our College Advent Care Packages are always a big hit with our parishioners who are away at college. Parents of college students should notify the church office of their child's school address if they haven't already done so, because we don't want them to miss out! And if anyone wants to contribute boxes of pre-packaged snacks, candy/gum/mints, powdered drink mixes, or other small seasonal items for the packages, (or if you'd like to contribute money for the purchase of these items), please let Lisa Wackler know.
Mar-Lu-Ridge Camp and Conference Center is having anAdvent Family Gathering on Sunday, December 2nd, 1:00-4:00 p.m. Bring your family and friends and start a new tradition! Enjoy the warmth of their woodstoves and campfires, create some holiday crafts for your home, make a beautiful wreath* with greens from the property, and fellowship over a delicious meal in Mar-Lu-Ridge's Agape Hall.
$7/adult  -  $3/youth ages 3-11  -  children under 3 are free!
Please RSVP by November 30: mlr@mar-lu-ridge.org800.238.9974
*Note: Please bring your own wire and wire wreath frames
___________________________________________________________________________________
Help Needed for the Christmas Pageant!
Last year, our Christmas pageant costumes received a nice uplift. But with the pageant quickly approaching, we need some assistance with enhancing our new Christmas pageant costumes. We need both sewers (hand and machine), and some donations.  Please let us know if you are interested in helping - you can contact Christi Barnhart or Amy Moorhus Baumgardner or on her cell phone - 301.602.4729.
___________________________________________________________________________________
Gifts of Hope 2018 
Gifts of Hope is our Synod's alternative gift giving program which enables people to give gifts that reflect the gift God gave us, God's Son Jesus Christ. Please consider substituting a Gift of Hope for a more traditional gift on your list for friends and family, or supplementing those other gifts with a donation that will lighten the lives of others this Christmas season.
This program gives anyone the opportunity to purchase a practical gift to help our brothers and sisters in the DC area and around the world. Real challenges of homelessness and poverty continue to grow in our community, and there are needs across the globe that call for our attention. With Gifts of Hope, you will have the opportunity to choose from a group of Lutheran social ministry organizations, camps, and our synod's companion synods abroad to directly support their mission and programs.  Many children in the Washington area and throughout the world have benefited from Gifts of Hope by receiving books, camp scholarships, free lunches, and educational trips. Social ministry organizations, Lutheran camps, and Lutheran Churches in El Salvador, Namibia and Slovakia have also benefited from Gifts of Hope.
Beginning on Sunday, December 2, you can make a monetary contribution in honor of those on your gift list. Your contribution goes to the beneficiary organization to purchase the gifts you have selected.  View all the participating organizations on the back of the catalog or on the web.
Gifts of Hope catalogs will be available in our congregation on Sunday, November 25. Watch for the display after each service beginning December 2 and ending December 23 in St. Paul's narthex. You can review the gifts, fill out an order form, and purchase your gifts. You will receive a beautiful card and insert to use as the gift. For more information about Gifts of Hope see the web site, or contact Rebecca Highsmith, or at 202.309.2812.
_________________________________________
 DID YOU KNOW ....?
DID YOU KNOW is a weekly feature in observance of St. Paul's 175th Anniversary. 
Did you know that each inscription chiseled into the cornerstone of St. Paul's Lutheran Church has a specific meaning? You most likely have passed the cornerstone many times, but perhaps have not considered the inscriptions.
As you go up the steps to enter the church through the front doors, the cornerstone is on the right. The stone is Indiana limestone and weighs 842 1/2 pounds. It is 3 feet wide, 23 1/2 inches deep, and 13 5/8 inches high.
On the front face is the name, Saint Paul's Lutheran Church.
On the north face are three dates:
1844 - cornerstone laying date of St. Paul's original church building. 
1911 - cornerstone laying date of Epiphany Lutheran Church. 
1930 - cornerstone laying date of present church. 
The first two dates are placed underneath, symbolic of the fact that this church is built on the work done by the two former churches. 1930 is larger to suggest the prophetic hope and prayer of larger things to come.
In the center of the south face is the monogram of two Greek letters X (Chi) and R (Rho) which form a Christogram. To the left of the monogram is the Greek letter A (alpha) and to the right O (omega) meaning Christ is the Alpha and Omega, the first and last. Underneath is the scripture reference to Ephesians 2:20-22.
"Built on the foundation of the apostles and prophets, with Christ Jesus himself as the chief cornerstone. In him the whole building is joined together and rises to become a holy temple in the Lord. And in him you too are being built together to become a dwelling in which God lives by his Spirit."
As you come across pictures from your own time at St. Paul's, please share them with us , so we can include them on our website, Facebook page, Twitter feed, and in displays around the church.  If your pictures are hard copies, we will scan them and return them to you.
If you have any questions, please don't hesitate to contact Lisa or Joy in the Church Office.
___________________________________________________________________________________
Halloween Candy Collection
St. Paul's will be collecting any extra or unwanted Halloween candy again this year. We will make up small gift packages for the folks at Friendship Place to give to their clientele in the cold weather months. We will begin collecting today in the box labeled "Halloween Candy" in the portico. If you have any questions, please contact Lisa Wackler.
___________________________________________________________________________________

Happy 175th Anniversary, St. Paul's!
175th Anniversary of St. Paul's!
Sunday, April 15th, 2018, marked the actual 175th Anniversary of St. Paul's English Lutheran Church. While St. Paul's first service was actually on January 8, 1843, the complete organization of the church was not until April 15th 1843 when the first church council was elected. We had a wonderful celebration to commemorate the special day! 
The day began with a festival worship service at which Bishop Graham brought greetings and presided. A brass quartet joined us and all of the choirs (the Bell Choir, Youth Choir and Adult Choir) contributed lovely music to mark the day. The congregation read Psalm 46 in unison, just as was done at St. Paul's Semi-Centennial in 1893. 
Following worship, St. Paul's hosted a celebratory luncheon and program. Thomas L. Bowen of DC Mayor's Office of Religious Affairs presented a congratulatory letter from Mayor Muriel Bowser to Pastor Omholt and then led us in Grace.  
There was a delicious buffet luncheon and while people were eating there was a video of the construction of the present day church accompanied by music of David Hearn playing the first organ. 
During dessert, we had a good old fashioned hymn sing! 
Following the meal we heard comments from 2 of our Trustees (June Ericsson and David Cox) and then there was a surprise visit from Pastor J.G. Butler who served at ST. Paul's from 1849-1873! He was portrayed by Dwayne Starlin, a professional impersonator and delivered parts of Rev. Butler's famous sermon from the day following President Lincoln's Assassination and answered questions from the audience. 
There was also a display highlighting St. Paul's through its 175 years in the baptistry and a new brief history of St. Paul's was available. This display will be evolving throughout the year. If anyone would like to help out with the display, please contact Joy Belew in the church office. 
__________________________________________________________________________________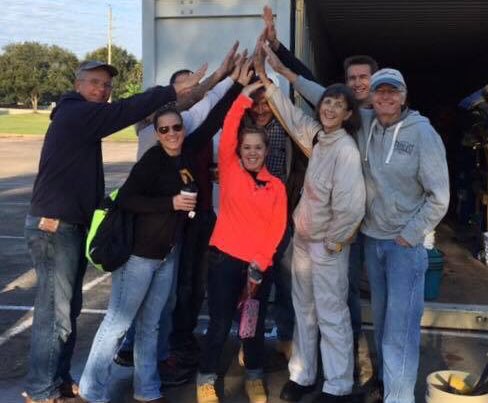 Our Mission Team in Houston, Texas, last November!
------------------------------------------------------------------
 
------------------------------------------------------------------