August 18th - Spend a Summer Night with RÓMEZ3arts and help Support Prime Time Center at St Paul's!
On August 18th from 7:30 pm - 9:30 pm there will be an evening concert at St. Paul's with something for every musical taste and then some!  RÓMEZ3arts' Threefold mission is bringing the highest quality of Musical Performance, Community Engagement, and Musical Mentorship to stages and other venues in the US and abroad. Check them out on Facebook or their websitewww.romez3arts.com or follow the link to Eventbrite to purchase tickets in advance! 
https://www.eventbrite.com/e/summer-nights-tickets-48602428171 
____________________________________________________________
Rally Day is Fast Approaching!   September 9th--One Service at 11 am
Please mark your calendars for our annual Rally Day Picnic, Sunday, September 9th, after the 11 am service. Hot dogs, hamburgers and drinks will be provided by the church. Please bring a side dish or dessert to share. We'd love volunteers for set up, grilling and clean up. Contact Liz Rihani with questions or to volunteer.
_________________________________________________

The New Sunday School Year is Just Around the Corner!
The first day of Sunday School is, Sunday, September 9th, which is Rally Day at St. Paul's. Opening Sunday School Chapel will be at 9:45 am in the Lower Auditorium. 
Sunday School is offered for grades pre-K through high school. Sunday School meets weekly from 9:45 am - 10:45 am. If your child is aged 2 ½ -3, they are old enough to start Sunday School!  
To help us prepare for the new Sunday School year, please register your child now for classes. For registration form click here.
Registering early will help us finalize our classes, plan for materials, and develop a Sunday School contact list with your contact information.
And are you willing to help out in any way? We are always looking for classroom teachers! Please contact Tammy Larson if you can help.
__________________________________________________
Begins on Sunday, September 9th!
Attention all 7th and 8th graders:
Mark your calendars, because we are starting the new year of Confirmation on Sunday, September 9th!
Confirmation is a time for thinking about our Baptism, for understanding what the Bible says about our faith, for learning what we believe as Lutherans and why, and-most important of all-for asking questions about our faith!
Confirmation is a two-year program that meets twice a week: Sundays: 9:45 am-10:45 am, and Tuesdays:4:45 pm-6:00 pm. Second year students will be confirmed on Pentecost Sunday: Sunday, June 9th, 2019.
To register for Confirmation, please complete the registration form by clicking on this link:
There will be a mandatory meeting for ALL Confirmation students and their families on Sunday, September 16th during the Sunday School hour (9:45 am-10:45 am). Please let Lisa Wackler  know right away if you are unable to attend this meeting.
And if you have any questions about the Confirmation program, please contact Pastor Tom, Deaconess Cassie Brown, or Lisa Wackler.
_____________________________________________________________________________________
National Youth Gathering a Great Success!
The StLuthRef High Schoolers just returned on Sunday, July 1st from attending the ELCA's National Youth Gathering in Houston, Texas.  For five days, twenty-five kids and four adult leaders showed the people of Houston and each other what it means to be a child of God, by serving in the community, learning about ministry, attending a synod gathering, worshiping with each other, being a part of the Gathering's "Mass Cast" on opening night, and having a whole lot of fun through it all!  And we were in good company, because the triennial event was attended by 31,000 other ELCA Lutherans!
If you'd like to check out some of the many activities that we did, please watch the ELCA's videos posted on YouTube:  https://www.youtube.com/results?search_query=elca+youth+gathering+2018.
A big thank you to the congregations of St. Paul's, Luther Place, Church of the Reformation, and Augustana for their support!  And mark your calendars now, because the next ELCA National Youth Gathering is in Minneapolis, June 29-July 3, 2021.
__________________________________________________

Summer Worship Schedule Began Sunday, May 27th! 
Just a reminder that from Sunday, May 27th through Sunday, September 2nd, there is only one worship service at 10 AM. 
Also, please note that Sunday School is over until September 9th!
And don't forget!  The church nursery is available every Sunday during the summer, 9:45--11:15 am (or until the last child gets picked up).  Let us give you a break when you need it!
___________________________________________________________________________________
Art Exhibit featuring David Cox
The watercolors of St. Paul's member, David Cox are currently on exhibit at the District Architecture Center, Suman Sorg Gallery located at 421 7th Street NW, Washington, DC 20004. (www.aiadc.com).Gallery hours are Monday - Wednesday, 10:00 am - 7:00 pm and Thursdays from 10:00 am -5:00 pm. The exhibit runs until August 31st and admission is free.
_____________________________________________________________________________________
Congratulations to St. Paul's Newest Apostles:
The 2018 Confirmation Class!


Confirmation Class Bulletin Board Pictures
The 2018 Confirmation bulletin board has been taken down and saved.  Each confirmand's picture and Confirmation Scripture verse are clipped together and located on the small table in Deaconess Cassie's office.  You are welcome to stop by the office and pick up the packet to add to your Confirmation keepsakes.  If you are unable to pick them up and need to make other arrangements please contact Deaconess Cassie. 
________________________________________
       WAY TO GO, SONJA!
Sonja Kahler graduates from Peabody program;                                                                                                          Will present organ recital at St. Paul's the evening of June 29th!
Today St. Paul's musician Sonja Kahler received a Graduate Performance Diploma in Organ from the Peabody Institute of Johns Hopkins University, in Baltimore. This conservatory program takes two full-time academic years to complete, and requires classwork and two significant recitals. Peabody is the oldest music school in the United States, and has been officially linked to Johns Hopkins since 1977.
At Peabody Sonja received the E. Carl Freeman Scholarship in Organ, the Milton H. Miller, Sr. Endowed Scholarship in Organ, and the year-end Richard Ross Memorial Prize in Organ. Her Master of Music is from Northwestern University; her undergraduate studies, in music and journalism, were at (the Lutheran) Valparaiso University.
____________________________________________________________
St. Paul's Celebrates 175 Years!
175th Anniversary of St. Paul's!
Sunday, April 15th, 2018, marked the actual 175th Anniversary of St. Paul's English Lutheran Church. While St. Paul's first service was actually on January 8, 1843, the complete organization of the church was not until April 15th 1843 when the first church council was elected. We had a wonderful celebration to commemorate the special day! 
The day began with a festival worship service at which Bishop Graham brought greetings and presided. A brass quartet joined us and all of the choirs (the Bell Choir, Youth Choir and Adult Choir) contributed lovely music to mark the day. The congregation read Psalm 46 in unison, just as was done at St. Paul's Semi-Centennial in 1893. 
Following worship, St. Paul's hosted a celebratory luncheon and program. Thomas L. Bowen of DC Mayor's Office of Religious Affairs presented a congratulatory letter from Mayor Muriel Bowser to Pastor Omholt and then led us in Grace.  
There was a delicious buffet luncheon and while people were eating there was a video of the construction of the present day church accompanied by music of David Hearn playing the first organ. 
During dessert, we had a good old fashioned hymn sing! 
Following the meal we heard comments from 2 of our Trustees (June Ericsson and David Cox) and then there was a surprise visit from Pastor J.G. Butler who served at ST. Paul's from 1849-1873! He was portrayed by Dwayne Starlin, a professional impersonator and delivered parts of Rev. Butler's famous sermon from the day following President Lincoln's Assassination and answered questions from the audience. 
There was also a display highlighting St. Paul's through its 175 years in the baptistry and a new brief history of St. Paul's was available. This display will be evolving throughout the year. If anyone would like to help out with the display, please contact Joy Belew in the church office. 
__________________________________________________________________________________
 DID YOU KNOW ....?
DID YOU KNOW is a weekly feature in observance of St. Paul's 175th Anniversary. 
Did you know that in 1992 Pastor Tom Omholt called Joan Janshego, chair of St. Paul's Social Ministry Committee, and said, "I think we need to open a homeless shelter," and by December 1992, it was a reality?
The idea for a homeless shelter at St. Paul's was motivated when the D.C. government received pushback from neighbors to its plan to build an emergency homeless shelter at Guy Mason Recreational Center at Calvert Street. Two local churches came to the rescue and opened homeless shelters in their buildings.  
The desire for St. Paul's to be part of the D.C. homeless solution launched a whirlwind of activity by the Social Ministry Committee. There were consults with the churches who had homeless shelters to determine a viable model. Anticipating resistance and wanting buy-in, meetings and forums were held to discuss the project and to answer questions with St. Paul's members, immediate neighbors, organizations that used the church building, and nearby schools.  
On November 1,1992, the establishment of an emergency shelter was approved by the congregation, and the shelter opened in December 1992 with four residents. Four years later, the shelter expanded to house five men, and in November 2001, the shelter began year-round operation. Volunteers, many of whom are not St. Paul's members, provide dinner each night for the residents. 
For more than 25 years, St. Paul's has supported hundreds of men by providing a safe environment so they could take the first step towards getting their lives back together.
To find out more about the hard work to establish St. Paul's Homeless Shelter, you can talk with Joan Janshego or can read her article on the Historic Chevy Chase DC website, 
http://www.historicchevychasedc.org/history-now/st-pauls-homeless-shelter
-------------------------------------------------------------------------------------------------------------------------------------------------
As you come across pictures from your own time at St. Paul's, please share them with us , so we can include them on our website, Facebook page, Twitter feed, and in displays around the church.  If your pictures are hard copies, we will scan them and return them to you.
If you have any questions, please don't hesitate to contact Lisa or Joy in the Church Office.
___________________________________________________________________________________
Capital Campaign Update
As spring turns to summer, we give thanks to our new HVAC system for keeping all parts of the church cool and comfortable for worship, gathering, and fellowship!
We are also thankful for pledges totaling $420,616.00 which represent 47% of our fundraising goal of $900,000. We still have a ways to go, and the Capital Campaign Committee remains dedicated to helping make this "Our Time, Our Turn."
Is now YOUR time and YOUR turn to consider your pledge, or re-consider your existing pledge? Yes! In fact, there have been some recent changes to tax laws affecting how charitable organizations like St. Paul's receive donations.Did you know that after turning age 70 ½, you may make a direct transfer of up to $100,000 to St. Paul's to satisfy all or part of your Required Minimum Distribution? This action is known as a Qualified Charitable Distribution, or QCD for short.
Changes in the tax laws in 2018 eliminate miscellaneous deductions, and state and local taxes are limited to $10,000. Many taxpayers who have no mortgage may qualify for a greater deduction by taking the standard deduction ($12,000 for singles and $24,000 for a couple on a joint return). By using the QCD, an individual or couple could effectively gift funds to charity and still take the standard deduction. This would leverage their tax situation not unlike those who gift appreciated securities. The QCD is tax-free to the charity and the donor is not taxable on the distribution.Such planning could be very effective this year for your annual giving or Capital Campaign contributions at St. Paul's.
Clear as mud? Then we are here to help. Please contact Mike Charlton, Capital Campaign Chair, John Wannen, or the church office if you have questions. They are happy to discuss leveraging your standard deduction for charitable causes, or other ways that you can pledge to the Capital Campaign.
And thank you for continuing to support the Our Time, Our Turn Capital Campaign!
__________________________________________________________________________________
Happy 175th Anniversary, St. Paul's!
___________________________________________________________________________________
Thank You for Joining us for Soup and Sacrament 2018!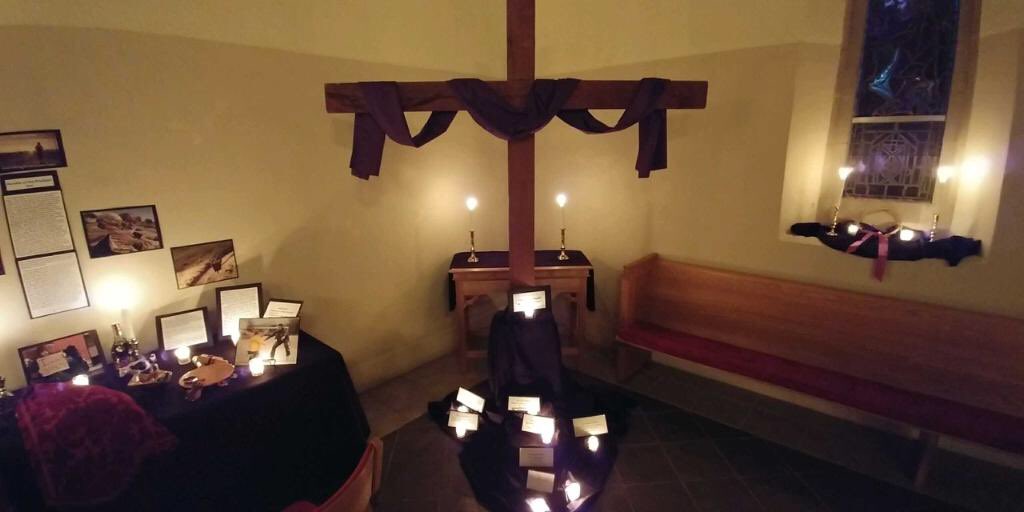 __________________________________________________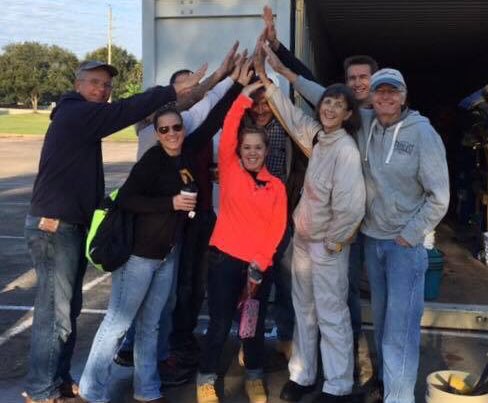 Our Mission Team in Houston, Texas, last November!
------------------------------------------------------------------
 
------------------------------------------------------------------