Special Note:
There will be one worship service at 11 am on Sunday, October 28th (Reformation) as well as Sunday, November 4th (Pastor Tom's final service and also All Saints Sunday).

(The 8:30 am worship service will resume on November 11th.)
Regular Schedule of Sunday Services
8:30 am:  Worship Service
9:45 am:  Sunday School--Epiphany Chapel
11:00 am:  Worship Service
___________________________________________________________________________________
And don't forget!  The church nursery is available every Sunday 10:30 am--12:30 pm (or until the last child gets picked up).  Let us give you a break when you need it!
__________________________________________________________________________________
St. Paul's Reformation Lunch
Sunday, October 28th
Plese join us immediately after the 11 O'clock Service on Sunday,
October 28th for a German-inspired luncheon and the opportunity to celebrate the 501st Reformation Day!
We will gather outside, weather-permitting (and inside in the Fellowship Hall, if not). We need volunteers to help with set-up and breakdown for this event. Please contact Lisa Wackler if you are able to assist. 
This is not a potluck, so you don't need to sign up to bring anything-just come and enjoy each other's company!
And if you want to continue celebrating, there is a Reformation Worship Service at the Washington National Cathedral at 4:00 p.m. hosted by the ELCA Metro D.C. Synod. 
___________________________________________________________________________________
So what exactly is a cantata?
And what about the one on Sunday, October 28th?

A cantata is a vocal genre of the Baroque era, which lasted from around 1600 to 1750 (with the death of J.S. Bach literally marking the end of an era). A cantata consists of variable mixes of solos, duets and larger-ensemble pieces, with instrumental accompaniment ranging from a couple of instruments to a small orchestra. When cantatas originated in Italy early in the 17th century, they were distinctly secular works created for social gatherings. As this vogue spread beyond Italy, numerous composers in England, France, and the German-speaking countries set texts in their own languages and adapted the Italian musical models. Cantatas evolved into miniature oratorios in even more varied styles in the 18th, 19th and 20th centuries elsewhere in Europe and the United States. 
The Lutheran cantata (or chorale cantata) is a descendant of the Lutheran motet (meaning a serious, sacred choral work that was not necessarily directly liturgical) that, as the form developed in Germany in the 17th century, adapted various characteristics from the Italian cantatas. Pastor Erdmann Neumeister (1671-1756) put an especially Lutheran stamp on this growing repertory by creating several cycles of cantata texts, mostly poetic paraphrases of Scriptural passages specific to various feasts of the church year. The musical bases of Lutheran cantatas became the chorales, the hymn style created by Martin Luther: strong, metrical tunes adapted from older sources, in the modern language of the people. Within the Lutheran worship service, sacred cantatas functioned as sermons in music on the lessons of the day, preceding the actual sermon itself (similar to our Hymn of the Day).
Many German Lutheran composers both before and after J.S. Bach wrote chorale cantatas, but he brought them to their artistic apex, using chorale melodies in very diverse and often elaborate ways. However, despite the variety among the hundreds of J.S. Bach's cantatas, the last movement of each is a relatively simple setting of a chorale melody, such as the congregation might sing as a hymn.
The cantata you'll hear on October 28th at the single, 11:00 festival service was written for the Feast of the Reformation in 1725, when J.S. Bach was 40 years old. It has three movements for choir, two solos and a duet (that will be sung as a quartet). It is a beautiful 15 minutes, not long, especially when we consider that in Bach's day a church service could last four hours, with a sermon of one to two hours, in a church with no climate control! Bach directed this piece, played the organ and led the choir all morning at St. Thomaskirche in Leipzig, then hurried across town to the Nikolaikirche and did it all again later that day.
We, along with the choir and guest orchestra, are looking forward to presenting Bach's cantata number 79, Gott der Herr ist Sonn und Schild (God the Lord is sun and shield), October 28th. Please invite your friends, and we hope to see you there!
___________________________________________________________________________________

Celebration of Tom and Barbara's many years of service to St. Paul's
We are planning two main events to commemorate Pastor Tom's upcoming retirement and to show our appreciation and recognition of Tom and Barbara's lifetime of service to St. Paul's and its members. We hope to see you there!
October 21st Dinner Party at the Chevy Chase Club:  On Sunday, October 21st from 5:30-8:30 pm, St. Paul's will host a dinner at the Chevy Chase Club to honor and celebrate Pastor Tom's many years of outstanding service to St Paul's Lutheran Church. Complimentary valet parking will be provided and the evening will feature an hour long cocktail reception followed by a three-course dinner and program.  There is a charge of $50 per person to help cover the cost of the event. This evening event is intended for adults only. If by any chance you have not received an invitation and are interested in attending, PLEASE call the office at 202-966-5489! 
November 4th Post-Service Reception: There will also be a family friendly luncheon in the lower auditorium at St. Paul's following the 11:00 am service on Sunday, November 4th (there is only one service that day).  This will be the last service officiated by Pastor Tom and our final opportunity to bid a fond farewell to Tom and Barbara.  In the best St. Paul's tradition, this will be an organized potluck, and, of course, the famous strawberry shortcake cake will be served.    
___________________________________________________________________________________

Seeking 10 Confirmation Sponsors
This year we are blessed to havethirteen students in our Confirmation class.  The Confirmands are a  combination of first-year students in the 7th grade, and second-year students in the 8th grade.
Confirmation students will spend this year learning what it means to be Christian, discussing our faith and what God says about living our lives in the way that Jesus taught us. We will also study Martin Luther's small catechism to see what this reformer-(and father of the Protestant faith)-says about faith and grace, and what we as Lutherans believe.
One of the most important things we can do as a congregation is support these students as they make this journey toward the Affirmation of their Baptism.  We hope to pair each one of our Confirmation students with a Confirmation Sponsor from the congregation.
What does a Confirmation Sponsor do?  It's very simple! 
Confirmation Sponsors will periodically reach out to their Confirmand by phone, text, email, or snail mail.  Extensive knowledge of the Bible or the Confirmation process is not  required...just a desire to help and get to know your Confirmand, and a commitment to keeping him or her in your prayers! If interested, please contact  Lisa Wackler.

_______________________________________________________________________
St. Paul's Celebrates 175 Years!
175th Anniversary of St. Paul's!
Sunday, April 15th, 2018, marked the actual 175th Anniversary of St. Paul's English Lutheran Church. While St. Paul's first service was actually on January 8, 1843, the complete organization of the church was not until April 15th 1843 when the first church council was elected. We had a wonderful celebration to commemorate the special day! 
The day began with a festival worship service at which Bishop Graham brought greetings and presided. A brass quartet joined us and all of the choirs (the Bell Choir, Youth Choir and Adult Choir) contributed lovely music to mark the day. The congregation read Psalm 46 in unison, just as was done at St. Paul's Semi-Centennial in 1893. 
Following worship, St. Paul's hosted a celebratory luncheon and program. Thomas L. Bowen of DC Mayor's Office of Religious Affairs presented a congratulatory letter from Mayor Muriel Bowser to Pastor Omholt and then led us in Grace.  
There was a delicious buffet luncheon and while people were eating there was a video of the construction of the present day church accompanied by music of David Hearn playing the first organ. 
During dessert, we had a good old fashioned hymn sing! 
Following the meal we heard comments from 2 of our Trustees (June Ericsson and David Cox) and then there was a surprise visit from Pastor J.G. Butler who served at ST. Paul's from 1849-1873! He was portrayed by Dwayne Starlin, a professional impersonator and delivered parts of Rev. Butler's famous sermon from the day following President Lincoln's Assassination and answered questions from the audience. 
There was also a display highlighting St. Paul's through its 175 years in the baptistry and a new brief history of St. Paul's was available. This display will be evolving throughout the year. If anyone would like to help out with the display, please contact Joy Belew in the church office. 
__________________________________________________________________________________
 DID YOU KNOW ....?
DID YOU KNOW is a weekly feature in observance of St. Paul's 175th Anniversary. 
Did you know that during St. Paul's Vacation Bible School some very special individuals join in the learning and fun?
While on an icy mountain expedition, Trek stopped by to show how God's awesome power guides through life's challenges. Clark Cavern, struggling spelunker, learned that Jesus is the one who lights our way and gives us hope. Grumpy Roman Guard Brutus who watched over Paul in prison, but eventually discovered God's love. Castaway Jimmy Noland experienced that Jesus carries us through life's storms.
Whenever Trek, Clark Cavern, Brutus, and Jimmy Noland made appearances, the VBS participants loved it. Interestingly, each and everyone of them looked a lot like Pastor Tom. 
On the final day of VBS, there was always a big "reveal" to the delight of the children with lots of  "I knew it was Pastor Tom!" 
___________________________________________________________________________________
As you come across pictures from your own time at St. Paul's, please share them with us , so we can include them on our website, Facebook page, Twitter feed, and in displays around the church.  If your pictures are hard copies, we will scan them and return them to you.
If you have any questions, please don't hesitate to contact Lisa or Joy in the Church Office.
___________________________________________________________________________________

Happy 175th Anniversary, St. Paul's!
__________________________________________________________________________________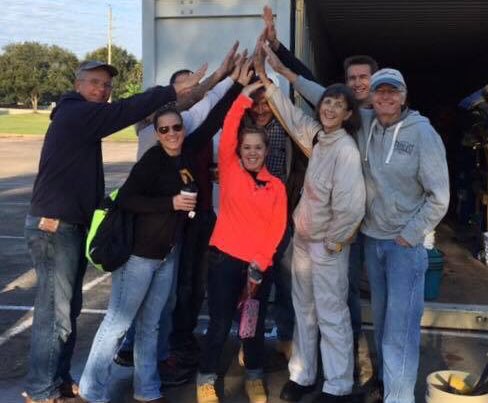 Our Mission Team in Houston, Texas, last November!
------------------------------------------------------------------
 
------------------------------------------------------------------